Bio Cellulose Mask for your demanding face skin
Your Biotulin Face Mask rejuvenates the complexion with immediate effect, corrects wrinkles and pigment spots over the long terms.
Hypoallergenic Parafin- and paraben-free.
One Box: 4 x Bio Cellulose Mask for your demanding face skin.
DIRECTIONS:
Remove Mask, unfold and remove the protective film on one side.
Place the Mask on your clean face, press gently and mould it to your face until it feels comfortable.
Remove the protective film from the other side and leave the Mask to work for 30 minutes.
Remove Mask and massage the remaining serum into the skin.
---
Daynite24+ (50ml**)
BIO24001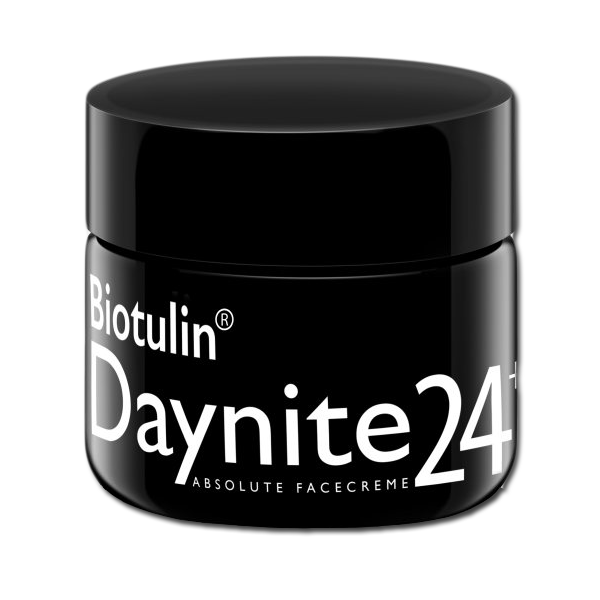 Daynite24+ is a day and night anti-wrinkle creme providing perfectly coordinated basic care for every skin type and age. Dermatological studies have shown that the Biotulin active ingredient combination reduces wrinkle depth by up to 25% within just one hour.
Daynite24+ provides the skin with moisture and vitamins during the day. The light consistency does not create any ugly shine, your usual make-up can be easily applied after morning use of Daynite 24+.
At night, Daynite24+ regenerates the skin due to natural grape seed oil. During development, particular emphasis was placed on the nourishing properties of individual active ingredients. The skin is optimally supplied by hyaluronic acid, ideally stimulating the skin's own collagen formation.
Brand:Biotulin Daynite24+
*Biotulin Supreme Skin Gel 100ml, 333,27 € / Daynite24+ 100ml, 138,00 € / UV30 Daily Skin Protection Creme 100ml, 175,55 €
BIOTULIN DERMATOLOGICALLY TESTED
- EXCELLENT -