Effectiveness of the Biotulin Anti-Aging Gel
First the effectiveness of the Spilanthol contained in Biotulin was tested under laboratory conditions using a muscle contraction model (NO animal testing!). Then, the same test was repeated on human study participants.
The results
Even the tiniest amount of Spilanthol is enough to completely relax the muscles beneath the skin treated.

The subsequent trial on the human guinea pigs (also using a minute amount of the formula) confirmed the results already obtained from the muscle contraction model: within just 60 minutes after applying Biotulin Supreme Skin Gel the skin became as smooth and tighten as after Botulinum Toxin injections.

Furthermore, with a Spilanthol concentration of even only three per cent, a residual effect could be still be observed 24 hours after application.

After just 30 days of continual use, both the depth and length of wrinkles showed a marked reduction – skin was generally smoother and firmer.
---
Bio Cellulose Mask (4x Box)
BIO40001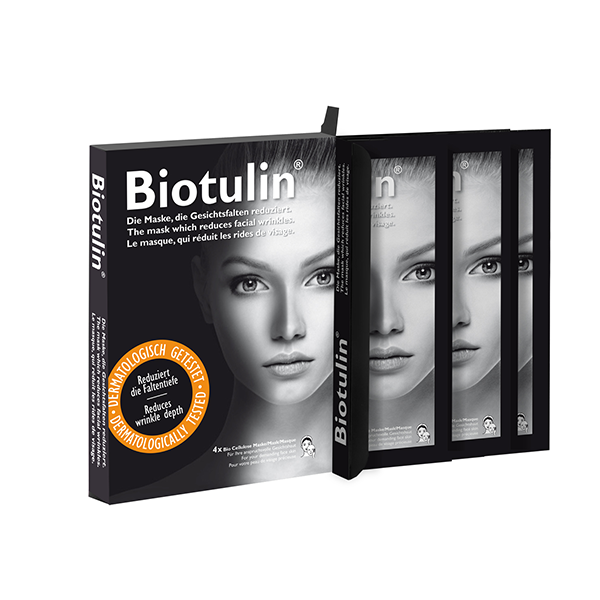 Cellulose Mask for your demanding face skin

Your Biotulin Face Mask rejuvenates the complexion with immediate effect, corrects wrinkles and pigment spots over the long terms.

Hypoallergenic Parafin- and paraben-free.
One Box: 4 x Bio Cellulose Mask for your demanding face skin.
DIRECTIONS:
Remove Mask, unfold and remove the protective film on one side.
Place the Mask on your clean face, press gently and mould it to your face until it feels comfortable.
Remove the protective film from the other side and leave the Mask to work for 30 minutes.
Remove Mask and massage the remaining serum into the skin.
Brand:Biotulin Daynite24+
*Biotulin Supreme Skin Gel 100ml, 333,27 € / Daynite24+ 100ml, 138,00 € / UV30 Daily Skin Protection Creme 100ml, 175,55 €
BIOTULIN DERMATOLOGICALLY TESTED
- EXCELLENT -