Biotulin HYDROLON Loose Powder...
...is unique in the world as a facial powder for reducing wrinkles. In line with the increasing trend towards natural and multifunctional colour cosmetics, Biotulin has created an innovative, loose face powder.
HYDROLON contains closed, micro-small liquid pearls that open when applied to your face, allowing the active biotulin ingredient to enter the skin. The powder grants your complexion a flawless finish due to its light covering power and silky texture.
One of the main components of biotulin is spilanthol. Spilanthol is a natural local anaesthetic derived from the extract of the plant Acmella Oleracea (paracress). It reduces muscle contractions and relaxes facial features. Small wrinkles disappear, especially those around the eyes and between the eyebrows.
Sulphates are also avoided in HYDROLON, to protect the skin from drying out - because your skin needs sufficient moisture for a well-groomed and silky complexion.
HYDROLON is a facial powder that moisturises the skin, reducing wrinkles and at the same time unfolding a light covering power.
We would be happy to provide you with product photos or further information
---
Daynite24+ (50ml**)
BIO24001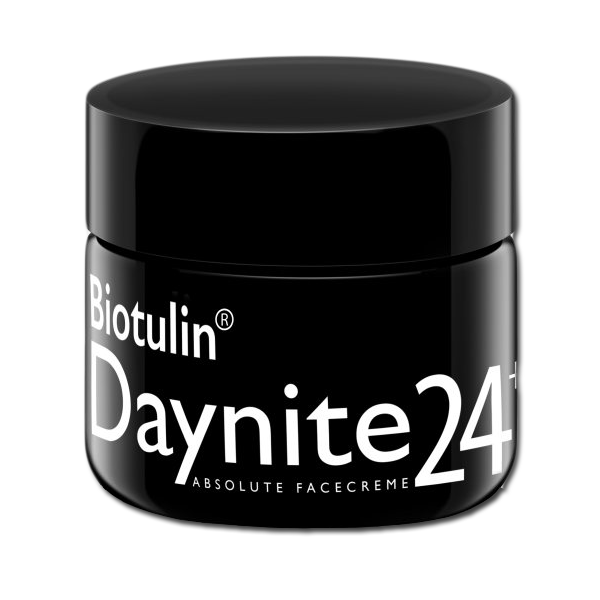 Daynite24+ is a day and night anti-wrinkle creme providing perfectly coordinated basic care for every skin type and age. Dermatological studies have shown that the Biotulin active ingredient combination reduces wrinkle depth by up to 25% within just one hour.
Daynite24+ provides the skin with moisture and vitamins during the day. The light consistency does not create any ugly shine, your usual make-up can be easily applied after morning use of Daynite 24+.
At night, Daynite24+ regenerates the skin due to natural grape seed oil. During development, particular emphasis was placed on the nourishing properties of individual active ingredients. The skin is optimally supplied by hyaluronic acid, ideally stimulating the skin's own collagen formation.
Brand:Biotulin Daynite24+
*Biotulin Supreme Skin Gel 100ml, 333,27 € / Daynite24+ 100ml, 138,00 € / UV30 Daily Skin Protection Creme 100ml, 175,55 €
BIOTULIN DERMATOLOGICALLY TESTED
- EXCELLENT -