Paris Match (French pronunciation: ​[pa.ʁimatʃ]) is a French language weekly news magazine. It covers major national and international news along with celebrity lifestyle features.
The magazine was started as a news magazine with the name Match in 1938 by the industrialist Jean Prouvost[1] and closed in June 1940. It was relaunched in 1949 with a new name, Paris Match. The magazine temporarily ceased its publication between 18 May and 15 June 1968 upon the call for a strike by the Syndicat du Livre, the French Printers' Union.
In 1976 Daniel Filipacchi purchased the ailing Paris Match, and turned it into one of France's most successful and influential magazines. It is published weekly and is now part of Hachette Filipacchi Médias,[3] which is itself owned by the Lagardère Group.
On occasion, Paris Match has sold more than one million copies worldwide when covering major events such as the first flight by a French astronaut aboard the U.S. Space Shuttle in June 1985. Benoît Clair, a senior writer for Paris Match, was the first journalist allowed to join the shuttle crew members from training until the departure for the launch pad at Cape Canaveral. A series of reports on the training was published in Paris Match on 22 April 1985, 17 June 1985 and 20 January 1986. As of 1996 the magazine had an independent political stance.
---
Bio Cellulose Mask (4x Box)
BIO40001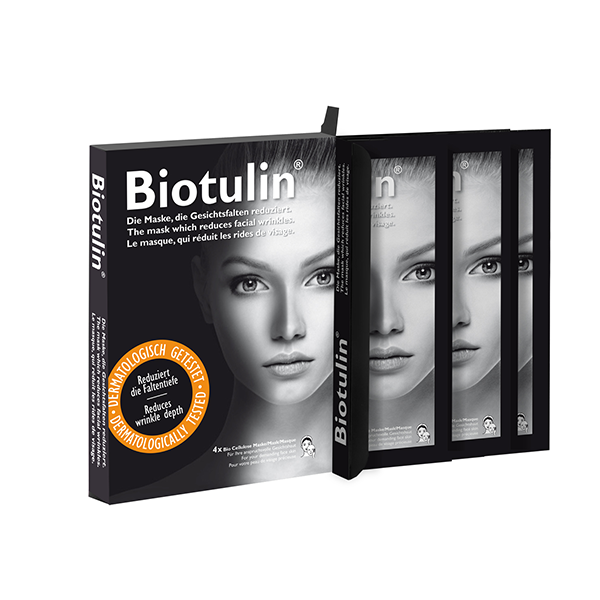 Cellulose Mask for your demanding face skin

Your Biotulin Face Mask rejuvenates the complexion with immediate effect, corrects wrinkles and pigment spots over the long terms.

Hypoallergenic Parafin- and paraben-free.
One Box: 4 x Bio Cellulose Mask for your demanding face skin.
DIRECTIONS:
Remove Mask, unfold and remove the protective film on one side.
Place the Mask on your clean face, press gently and mould it to your face until it feels comfortable.
Remove the protective film from the other side and leave the Mask to work for 30 minutes.
Remove Mask and massage the remaining serum into the skin.
Brand:Biotulin Daynite24+
*Biotulin Supreme Skin Gel 100ml, 333,27 € / Daynite24+ 100ml, 138,00 € / UV30 Daily Skin Protection Creme 100ml, 175,55 €
BIOTULIN DERMATOLOGICALLY TESTED
- EXCELLENT -